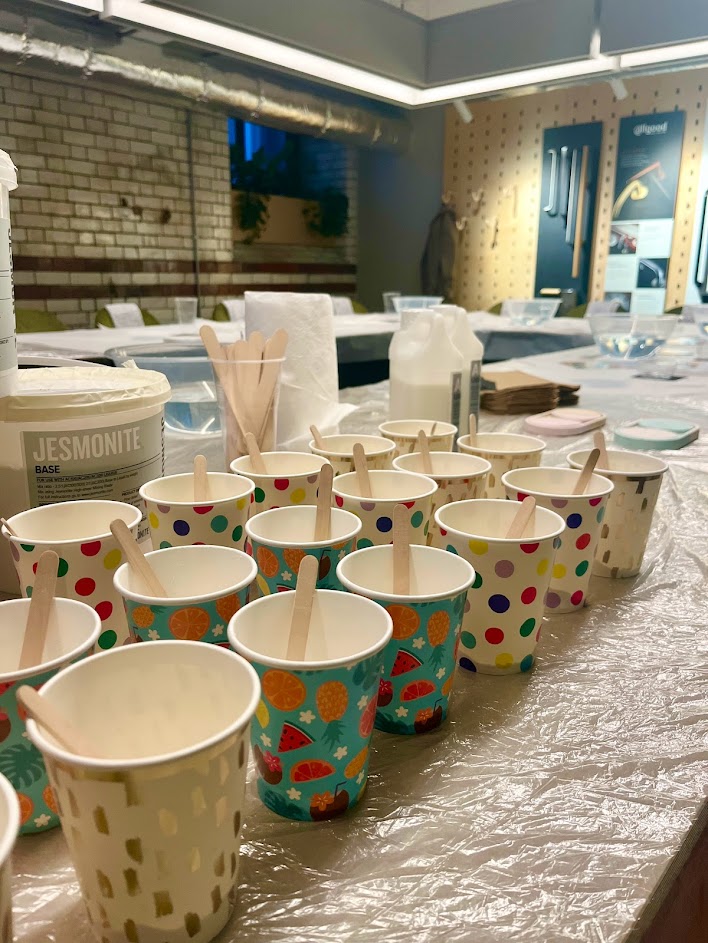 Introduction
A good friend of mine and fellow quilling enthusiast is a renowned sustainability and responsibility advisor. She normally guides policy for huge multinational companies but I was keen to ask her advice on how a small independent company like Common Room can aspire to be as sustainable as possible.
We discussed all the ways Ella and I try, for both Common Room and in Ellas other business Ella's Garden to reduce our environmental impact but it's sadly not as simple as avoiding single use plastic. Although that's a start, we also need to consider the life cycle of materials used, how they degrade and where they come from. We need to examine the carbon footprint of our workshops and within that, that of our suppliers. All whilst keeping prices affordable for our customers and managing our home lives, other enterprises and day to day part time jobs.
Easy right?
Is Common Room Social Workshops a sustainable business?
To be totally honest, we don't know. It's not exactly straightforward and there are lots of factors to consider, not just environmental protection. When looking at sustainability we would also need to consider economic viability and social equality. I'm sure we could commission an audit to get a definitive answer but until we make the FTSE 100 we're going to have to trust that we're really trying, and as my Mum always says, that's what's important.
So what do we do?
Here's a list of things we do at Common Room Social Workshops that are genuine attempts at sustainability.

Environmental Protection
We try not to use any single-use plastic in any of our workshops. For example we use wooden spoons and recycled paper cups in our jesmonite classes (at extra cost to us) rather than disposable plastic alternatives. I've yet to find another jesmonite workshop provider who does the same.

All of our ticketed workshops are held within walking distance to public transport and we try to hold events close to our customer base to avoid the need for cars.

We limit the need for water in all of our classes. Fresh, clean water is a commodity.

We try to be efficient with our energy use. For example we use air dry clay which doesn't require energy invasive kilns to process and it is biodegradable.

We try to use as many non plastic materials in our classes as possible, such as wooden tools, organic cotton aprons, paper bags and any plastic we do use we'll reuse over and over.

We design our workshops so there is minimal waste. For example, if we run a terrarium workshop we'll run a kokedama one afterwards so we can use leftover plants and moss ensuring we don't have to throw anything away. If we run a clay workshop, our attendees are encouraged to use any leftover clay to make personalised wall hangings.

We buy in bulk. This helps us to limit our carbon footprint with regards to the transportation of goods and helps to reduce unnecessary packaging.

We buy from suppliers who have legitimate environmental policies in place, even though this may cost more.

We are mindful of the materials we use within our plant based workshops, for example our terrarium mix is always made with peat free compost. We do not use decorative corals, leather, feathers or shells (unless they are sustainably sourced e.g from Shell on Earth).
Our plants do always come from the supplier in plastic pots and this is a bigger sustainability issue but where we can, we buy larger plants which we can split and Ella runs a South Manchester plant swap facebook group where all of our spare plastic plant pots are recycled back into the community.
Economic Viability & Social Equality
We hire spaces where we can encourage users to contribute to the local economy through buying food and drinks.

Ella and I both work remotely and use spaces for our private workshops that would otherwise be unoccupied e.g corner of a cafe, the basement of a bar.

We try to educate people about our materials and where they come from, for example; the composition of our terrarium mix and the history of jesmonite as an eco-friendly alternative to concrete.

We're trying to broaden our outreach to work with companies involved in supporting local communities.

We try to make our workshops accessible and can modify them to make adjustments for all attendees.

We are passionate about positive mental health, wellbeing and mindfulness. All of our workshops are designed to encourage people to spend time away from their screens and to create something lovely.
This is not a definitive list and we're constantly trying to adjust, evolve and improve. We're by no means perfect and I'm sure there are things we could do better but as we've only just celebrated our first birthday, I think we deserve a pat on the back and a glass of wine (vegan, organic, foot stomped in a second hand paddling pool made from grapes grown in Ellas back garden and poured from a recycled glass bottle of course).
If you have any questions, ideas or feedback please get in touch. It's essential for businesses like ours to remain open to feedback and continually strive to improve our sustainability efforts.
Vicky x